Tenants
Bradgate Lettings have been successfully finding Tenants suitable properties from city centre studio's to large country houses and across all rental budgets for over 22 years.
You can be assured of our professional approach to Lettings and Management by our long-standing memberships of ARLA Propertymark and The Property Ombudsman for Lettings (TPO). All Tenant deposits are automatically protected in The Dispute Service (Custodial) Scheme for you piece of mind both during and at the end of the Tenancy. Nil Deposit scheme is available on selected properties subject to terms and conditions please ask for details.
We do, as a regulated agent have specific Application Terms and Conditions and fees will be charged as detailed below.
Once you have viewed a property and decide to apply, we require application form – Available here – fully completed for each applicant along with 2 forms of identification such as driving license, passport, utility bill showing current address, we will carryout a thorough credit & reference check,  you should be aware before applying that affordability will be checked against your confirmed gross annual income this must be equal to or more that 30 times the monthly rent, you may also be asked to proved a guarantor depending on your circumstances their affordability must be 36 times the monthly rent to qualify.
Disclaimer – The information displayed about properties listed for rent comprises a property advertisement. Bradgate Lettings makes no warranty as to the accuracy or completeness of the details or any linked or associated information. This property advertisement does not constitute property particulars.
Acceptance of this application does not constitute an offer of a tenancy; references will be taken up by an independent company with your employers, bankers and previous Landlord if applicable.
Restrictions can apply to Tenants who are smokers, have children or pets. Please discuss your requirements with our property professionals before making any application.
Sample Assured Shorthold Tenancy Agreement should be read before making an application.
Please be aware that all Tenancies will be Joint & Several Assured Shorthold Tenancies for a minimum period of 6 months and an initial maximum period of 12 months unless specifically negotiated.
Tenant Fees
The Tenant Fees Act 2019 comes into force on 1 June 2019. From that date
it is illegal for letting agents to charge fees to tenants apart from a small
number of exemptions that are referred to as 'permitted payments'.
Permitted payments are:
Rent
Utilities and council tax
Holding deposits
Security deposits
Default fees
Fees for changing a tenant or ending a tenancy early
Rent
This is detailed on the Property advert.
Utilities & Council Tax
This is the Tenant responsibility unless the property advert notes otherwise
Holding Deposits
This is to reserve a property and equals 1 weeks rent. Please Note: This will be withheld if any relevant person (including any guarantor(s) withdraw from the tenancy, fail a Right-to- Rent check, provide materially significant false or misleading information, or fail to sign their tenancy agreement (and/or Deed of Guarantee) within 15 calendar days (or other Deadline for Agreement as mutually agreed in writing).
Security Deposits
Equal to five weeks' rent. This covers damages or defaults on the part of the tenant during the tenancy.
Equal to six weeks' rent if the annual rent is over £50000. This covers damages or defaults on the part of the tenant during the tenancy.
Default Fees
UNPAID RENT
Interest at 3% above the Bank of England Base Rate from Rent Due Date until paid in order to pursue nonpayment of rent. Please Note: This will not be levied until the rent is more than 14 days in arrears.
VARIATION OF CONTRACT (TENANT'S REQUEST)
£50 (inc. VAT) per agreed variation. To cover the costs associated with taking landlord's instructions as well as the preparation and execution of new legal documents, this includes any material change to the original agreement.
CHANGE OF SHARER (TENANT'S REQUEST)
£50 (inc. VAT) per replacement tenant or any reasonable costs incurred if higher. To cover the costs associated with taking landlord's instructions, new tenant referencing and Right-to-Rent checks, deposit registration as well as the preparation and execution of new legal documents.
EARLY TERMINATION (TENANT'S REQUEST)
Should the tenant wish to leave their contract early, they shall be liable to the landlord's costs in re-letting the property as well as all rent due under the tenancy until the start date of the replacement tenancy. These costs will be no more than the maximum amount of rent outstanding on the tenancy.
LOST KEY(S) OR OTHER SECURITY DEVICE(S)
Tenants are liable to the actual cost of replacing any lost key(s) or other security device(s). If the loss results in locks needing to be changed, the actual costs of a locksmith, new lock and replacement keys for the tenant, landlord any other persons requiring keys will be charged to the tenant. If extra costs are incurred there will be a charge of £15 per hour (inc. VAT) for the time taken replacing lost key(s) or other security device(s).
EXISTING TENANCIES
While agents cannot charge fees to tenants (other than permitted payments) on tenancies starting after 1 June 2019, agents are allowed to charge fees on pre-existing tenancies until 31 May 2020.
WHAT IS AND ISN'T A NEW TENANCY?
The fee ban applies to Assured Shorthold Tenancies (ASTs). If your tenancy renews and a new contract is signed after 1 June 2019, then the letting agent can't charge any further fees. However, if the tenancy continues after the end of the fixed term (what is known as a "periodic tenancy") then your  letting agent can continue charging fees until 31 May 2020 when they fall due under the terms of your tenancy agreement.
Download our Tenants application form here
Tenants Insurances are available click the Let Alliance button below for a quote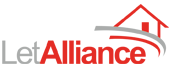 Protecting client's money
As members of ARLA Propertymark, we are duty bound to protect all money held on behalf of our clients. Whether your money is held in our ring-fenced client account, or that of our management team, your money is fully protected, in the unfortunate event that any rent, deposit or other client funds are misappropriated, then the ARLA Propertymark will consider an application to compensate you.
Our Client Money Protection certificate can be found here