Landlords
Whether you are a new landlord letting your own home, investing in your first buy-to-let or a professional investor with an existing portfolio we offer a range of services to suit….
We have over 22 years experience in finding suitable Tenants for all types of Residential and Commercial properties.
You can be assured of our professional approach to Lettings and Management by our long-standing memberships of the ARLA Propertymark, and The Property Ombudsman for Lettings (TPO).
Each service is individually designed to satisfy the needs of all landlords and investors, be they local, national or international and we promise that your chosen level of service will always be delivered at the most competitive rate in our area.
Landlords Letting Options
Bradgate Lettings can provide a comprehensive Fully Managed Service, Tenant find & Rent Collection or simple Tenant Finding.
Whichever service you choose, we will endeavor to make the whole process as simple and trouble free as possible.
Our Fully Managed service includes the following:
• An initial appraisal of the property and advice on the types of tenancy, letting, related legislation and market rents.
• Advertising and marketing of the property, including a "To Let" Board.
• Independent tenant referencing.
• Arranging energy performance certificates and gas/electrical safety checks.
• Preparing inventories/schedules of condition.
• Notifying service utility companies and local authorities where applicable of the change in responsibility for supply/charges and council tax.
• Receiving rents and accounting to you.
• Property inspections during and at the end of the tenancy.
• Arranging minor repairs and maintenance and reporting any major works required to you.
Our Landlord Terms of Business available here sets out in detail our responsibilities as your agent and also your obligations as a Landlord. Our Standard Scale of fees is detailed in the table below.
Scale of fees

Fully Managed Service
Tenant Find & Rent Collection
Tenant Finding
New Tenancy set-up fee
Property marketing advice & strategy
Property web marketing, advertising boards, email marketing
Accompanied viewings for prospective Tenants
AST Agreement
Landlord utility management
1st years Tenancy Deposit Registration
Deposit Dispute resolution
£450 inclusive of VAT
£600 inclusive of VAT
£700 inclusive of VAT
Inventory & Schedule of Condition*
£150 inclusive of VAT
£150 inclusive of VAT
£150 inclusive of VAT
Energy Performance Certification
£120 inclusive of VAT
£120 inclusive of VAT
£120 inclusive of VAT
Rent Warranty (subject to satisfactory reference) Nil Excess
3% of Monthly Rent plus IPT either paid monthly or annually
3% of Monthly Rent plus IPT
N/a

Legionnaires Risk Assessment (initial assessment)
£150 inclusive of VAT
£150 inclusive of VAT
£150 inclusive of VAT
Tenancy Deposit Protection (The Dispute Service)
First Year inc in Letting fee Subsequent years £45 inclusive of VAT
First Year inc in Letting fee Subsequent years £45 inclusive of VAT
First Year inc in Letting fee Subsequent years £45 inclusive of VAT
Monthly Full Management Service Fee
Quarterly property inspections
Client accounting & arrears management
Tenancy rent reviews & renewal negotiation
Routine repairs and maintenance management
Arranging annual gas safety certification **
14.4% inclusive of VAT
-
-
Rent Collection only
Client accounting & arrears management
-
6% inclusive of VAT
-
Tenancy renewal where new AST required
£90 inclusive of VAT
£90 inclusive of VAT
£90 inclusive of VAT
Quarterly property inspections (non managed)
-
£42 per visit inclusive of VAT
£42 per visit inclusive of VAT
Serving Notice seeking possession (Landlord request)
-
£90 inclusive of VAT
£90 inclusive of VAT
Attending Court for Possession hearings***
-
£240 inclusive of VAT
£240 inclusive of VAT

* Should the Landlord opt out of the Inventory and schedule of condition report then the Agent would not protect the Tenant deposit in the TDS or DPS. The Landlord would have to make arrangements' to protect the Tenant deposit and to deal directly with any dispute at the end of the tenancy term.
** This covers safety check arrangement and document management, it does not include the cost of the initial check or any subsequent remedial work required.
*** This covers the cost of Bradgate representation at court hearings, but does not cover the cost of Solicitors attendance or court fees.
Finding suitable tenants
As one of the largest local independent letting agents, we have extensive local knowledge.
All properties are listed on our website and the major internet portals, specific property Features, corporate mail shots, window displays and "Bradgate To Let" boards are instantly recognisable and well known throughout the area.
Insurance & Protection
Bradgate Lettings are Appointed Representatives of Your Company Matters Ltd who are authorised and regulated by the Financial Conduct Authority (FCA), Bradgate Lettings are able to provide competitive quotes for Landlords Buildings and Contents Insurance backed by major insurers.
Click the Let Alliance Button below for a quote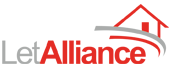 Rent Warranty policies are also available subject to reference criteria being met.
Tenant Deposits
Bradgate Lettings protect Tenant deposits taken under tenancy agreements managed by us; these will be automatically included within the Tenancy Deposit Scheme for Regulated Agents. Further details of this scheme and its regulations can be found at www.thedisputeservice.co.uk. We also offer Nil deposit schemes for tenants this gives the equivalent of 6 weeks rent cover for any end of tenancy dilapidations or non paid rent.
Protecting client's money
As members of ARLA Propertymark, we are duty bound to protect all money held on behalf of our clients. Whether your money is held in our ring-fenced client account, or that of our management team, your money is fully protected, in the unfortunate event that any rent, deposit or other client funds are misappropriated, then the ARLA Propertymark will consider an application to compensate you.
Our Client Money Protection certificate can be found here
Please contact our team of Property Professionals to discuss your requirements or to arrange a no obligation rental appraisal of your Property.